Dental Implants
A Permanent Solution to Restore Your Smile
If you need to replace any of your teeth, our dental implants in Marietta, GA, and the Kennesaw and Dallas, GA, areas are a great option. At Insight Dental, Dr. Johnson can use dental implants to replace all your teeth or fill in the gaps of just a few missing teeth. Thanks to today's advanced technology, getting dental implants is a pain-free procedure with minimal discomfort during recovery.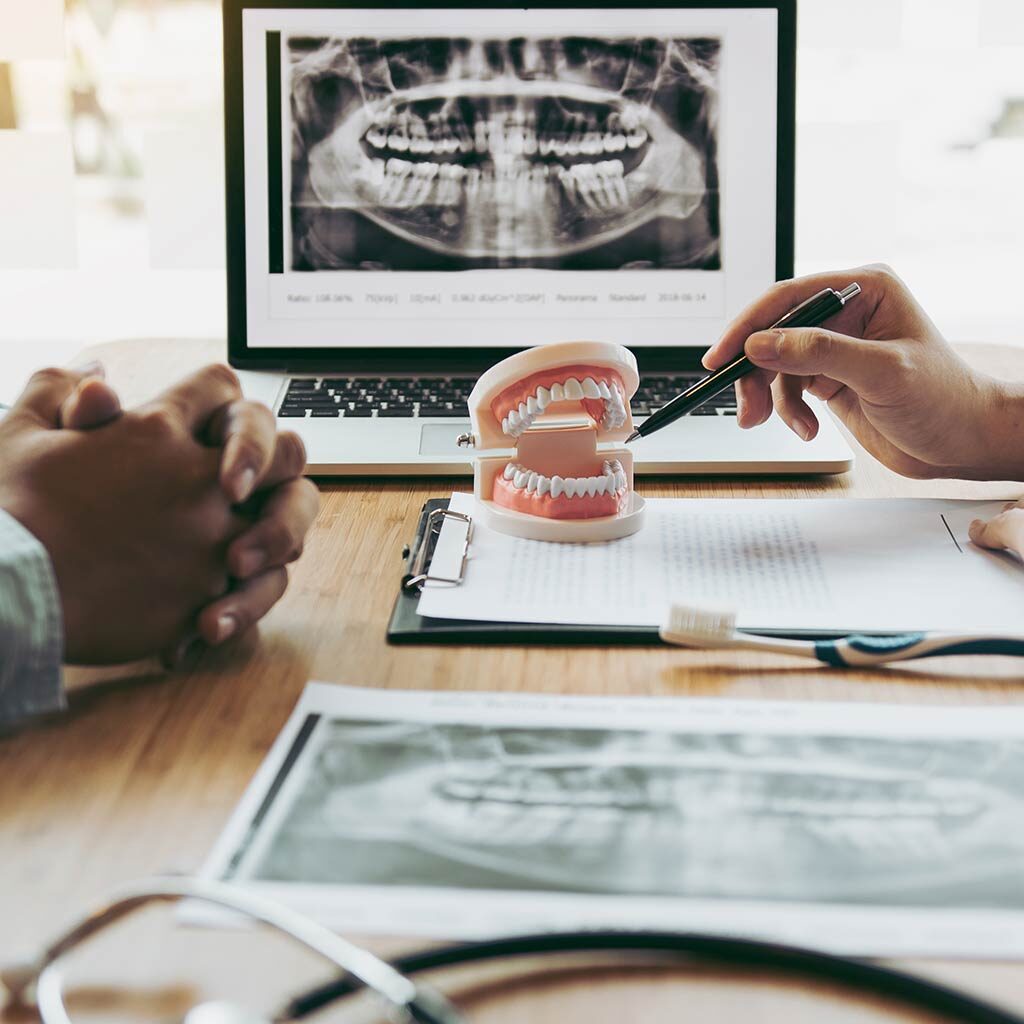 What Is a Dental Implant?
A dental implant is a permanent replacement for a damaged or missing tooth. We surgically position a steel "tooth root" into the jawbone below the gumline. Once your implant heals and securely fuses to the jawbone, we create a natural-looking crown as a cap. Your new tooth will look, feel, and function just like your natural tooth!
Benefits of a Dental Implant
Go ahead and bite into an apple or corn on the cob! Permanent dental implants are as strong as real teeth — no adhesive or soaking is necessary. You brush and floss just like you would with your original teeth. And, unlike a denture or bridge, a dental implant does not require the support of the surrounding teeth.
Procedure & Aftercare
After your implant is placed, it will fully fuse with your jawbone as the bone around the implant heals. Every case is unique, and each patient has a different experience with their procedure and healing process. We can advise you more on the process during your consultation and answer any questions you may have about dental implants.
---
Learn More About Dental Implants in Marietta, GA & the Kennesaw & Dallas, GA, Areas
To experience our 5-star-rated dental care, schedule your New Patient Appointment today by calling (770) 422-5614. You may also use our convenient online form. Your appointment includes the following:
Discuss Your Goals
Thorough Exam
Digital X-Rays
Professional Cleaning
During your appointment, we will take the time to explain our treatment process, flexible payment options, aftercare instructions, and answer any questions you have. We look forward to bringing out your best smile!